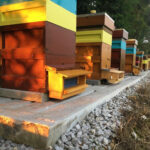 Small to Medium Business
€750.00
Our Adopt a Hive package is available to all businesses, organisations, schools, local authorities, groups.
Ireland has been identified as one of the largest gene pools of the European dark honeybee (Apis Melifera Melifera). Once a bee that was found all over Europe, it is now being threatened by climate change, lack of biodiversity, diseases carried by the varroa mites and the risk of hybridisation by non native bees.
By partnering with us, you or your company will be supporting our conservation work. It will also allow us to focus on helping to expand the number of native Irish honeybee colonies in Ireland. This will, in turn, contribute to your corporate social responsibility (CSR) and generate a great buzz within your company and demonstrate to your customers your continued support for the environment and towards the conservation of the endangered native Irish honeybee.
In return for your adoption, you will receive an official hive adoption certificate and a gift box as a token of our appreciation for your support and your logo will be displayed on one of our multi award winning hives in Fermoy.
Terms & Conditions:
Period of adoption lasts for 12 months.
For large multi nationals/schools/local authorities etc. we can also brand the hive to match your organisations branding for an additional cost.
Ability to purchase wildflowers seed packs or honey for your staff as a Corporate gift.
All prices are subject to constant review, terms and conditions apply.
For more info, please email us at info@blackwaterhoney.ie