If you love local honey, then you should try our delicious tasting raw Irish honey which is made by native Irish honeybees and is a natural sweetener. We do not filter or pasteurise our delicious tasting honey so that it retains all of the precious nutrients and components naturally contained within the honey, just as nature intended.
Local honey also contains a considerable amount of pollen, which may be considered a complete survival food. It truly is an amazing and great tasting natural product of which we are extremely proud. It may also help you hayfever suffers to help alleviate your symptoms of Hayfever.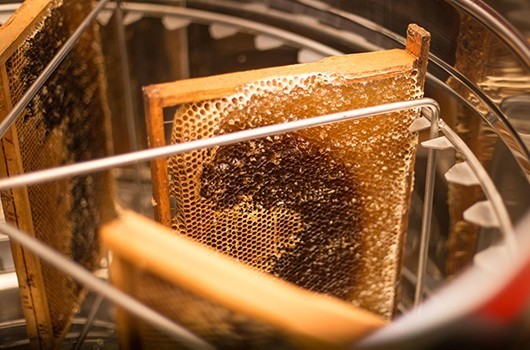 The extraction process
We ensure that during the extraction process, all of the natural goodness is captured in each and every jar.
No heat or additives are added to the honey during the extraction process.
We extract all of our honey in a purpose-built, honey extraction facility, using state of the art equipment.
This ensures that the honey reaches you, just as the bees and nature intended it.
Health benefits of honey
Studies have proven that raw honey contains a variety of beneficial ingredients. It also contains specific components that can offer other health benefits.
Pasteurisation and other processes may remove or reduce some of these elements, which include:
Bee Pollen, which has antioxidant and anti-inflammatory properties.

Propolis, which is a glue-like substance that helps keep the hive together and is said to have antiseptic and antibacterial properties. It can also contain amino acids, antioxidants, enzymes along with certain vitamins and minerals.