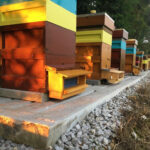 Small Business Hive Adoption
Would you like to adopt a hive from one of our many apiaries in Ireland?
Our Adopt a Hive package is available to all individuals, businesses, organisations, schools, local authorities, groups and is the perfect gift for every occasion, including: corporate gifting, birthdays, anniversaries and upcoming holidays.
Ireland has been identified as one of the largest gene pools of the European dark honeybee (Apis Melifera Melifera). The native Irish honeybee belongs to this family of bees. Once a bee that was found all over Europe, it is now being threated by hybridisation (casued by the mating with other species of honeybee) and only a few remaining isolated areas remain whereby it can be found in its pure form. Ireland is one of those locations where the Native Dark bee are perfectly adapted for our climate.
Once you have purchased the adoption package we will email you for your details regarding the adoption. By partnering with us, your company will be supporting our conservation work, allowing us to focus on the helping to expand the number of native Irish honeybee colonies we have in Ireland. This will, in turn, contribute to your corporate social responsibility (CSR) and generate a great buzz amongst your company and demonstrate to your customers your continued support for the environment and towards the conservation of the endangered native irish honeybee.
Your adoption pack will containing the following items;
2 x jars of our multi award winning and 5 star rated Blossom Honey.
2 x Mini wooden honey dippers.
5 x Blackwater Honey postcards to send to family or friends.
5 x Blackwater Honey Business cards to share.
5 x Mini packets of Wildflower seeds.
3 x Digital photo of your Adopted Hive(s) sent by email for use in your social media.
1 x pair of 8inch Beeswax candles.
1 x Blackwater Honey Informational card.
1 x Digital Adoption E-Certificate
1 x A4 Adoption certificate officially signed by the BWH team.
1 x Hive sign with your logo placed directly on to one of our hives.
Opportunity to purchase honey from your adopted hive or wildflowers seed packs for your staff.
Terms & Conditions: All prices are subject to review. Period of adoption lasts for 12mths. Discount available on multiple years or multiple hives. We can also adapt the hive to suit your branding for an additional cost. For more info. please email us at info@blackwaterhoney.ie